Most travelers to Burma visit Yangon, Mandalay, Bagan, and Inle lake, all of which are some of the most beautiful and relatively untouched places in Southeast Asia. You can be in the middle of Bagan, Burma's primary tourist destination that receives over a quarter million visitors a year, and ride a motorbike up to one of its 4,000 temples, clamber up the crumbling bricks like Indiana Jones, and watch sunset from on top of an ancient masterpiece feeling like you're the one discovering it for the first time. Few countries still offer that kind of travel experience.
However, these places all lie firmly on the government-curated beaten path. One way or another, it's been designed for your eyes. And so most travelers make their two-week round of these four commonly visited areas and then scratch their heads about what to do with the rest of their month-long visa. The government carefully monitors what foreign eyes and can see, marking off wide swaths of land where social unrest and civil war still unfold.
I wanted to spend my time in Burma differently and soon discovered that venturing even a few miles off the beaten path in this country turned into an incredible adventure. I spent two weeks motorbiking through the remote outskirts of Yangon, hitchhiking from Bagan to Mandalay, and attending an obscure local festival in central Shan state.
With 14 days left on my visa, I hatched a plan to travel by local ferry boat on the Irrawaddy River from Mandalay to Myitkyina, the northernmost city accessible to foreign visitors, stopping off along the river and spending a few nights in scarcely-visited villages. A German guy I'd been traveling with since Bagan agreed to join me (English-speaking company I'd later become extremely grateful for).
For more than a week straight, we sat squished in with locals wrapped in thick colorful blankets, giant crates of vegetables, chickens who clucked around freely at our feet, and children who spontaneously sat in our laps. We napped on hard metal benches, thankful to have each other as pillows and warmth. Whenever we approached villages along the shore to drop off passengers, young women with baskets of prepackaged meals on their heads would splash out to the boat before it even docked, while others with boats filled with fruit and fish rowed past them. The two groups would swarm the boat of hungry passengers, climb in over the sides, and stand on our seats yelling their offerings over our heads in Burmese. We'd buy rice and miscellaneous curries soaked in stinky fish oil and smile gratefully to them as they giggled and passed us the tiny overflowing containers.
Although we never knew how or when we'd arrive, the one thing we did know was our final destination: Myitkyina. Normally Myitkyina can be reached by boat directly from Bhamo, but at the time of our journey, there was some instability in the region and boats weren't running. To our dismay, we had to take a boat all the way back (a one-day journey!) to Katha and then either take a boat back to Mandalay or find another way up north.
Luckily, the guesthouse owner in Katha was happy to see us again and told us about a train that left at 5am from a town about an hour away from Katha the next day. It would take us to Myitkyina in a speedy 16 hours. We arranged for a tuk-tuk to pick us up at 3:30am and drive us to that town, where we'd hope to buy a ticket on the train and make it to our final destination by evening.
We had underestimated how arduous of a journey just getting to the train station would be. Our tuk-tuk didn't have any lights and the road to town wasn't paved, so it was a terrifying, bumpy, and freezing cold leg of the journey. We arrived when it was still dark and passengers had built their own fires outside the station. Getting the ticket was also a feat of patience, but it only cost us about $2 (for both of us!), so at least we were financially rewarded by all the aggravation (no one spoke English, there was no ticket office, and it took a lot of searching to find the one person who worked there, who happened to be curling up by the fire, too).
After all the hassle of training up to Myitkyina, what we didn't expect was to arrive and not have any way of getting out of there! Our plan was to stay for 3-4 days and then head back to Mandalay — but that turned out to be a Sisyphean task.
We spent several days asking around and came to the conclusion that bus would be the fastest and most comfortable way to get back to Mandalay, but no one could confirm if foreigners were allowed on local buses in this region. With much difficulty, we managed to score tickets from one agency only to have someone from that bus company show up at our guesthouse a few hours later saying, "So sorry, you actually aren't allowed on our bus" while gently ripping up our tickets and giving us our money back.
Later that evening, we sat anxiously in a travel agency run out of somebody's living room, realizing the only option left was to fly to Yangon on a disreputable government airline for $200 a seat. I reluctantly dug out my few precious US dollars, which were inspected, promptly ironed on an ironing board, and driven off, along with my passport, on a motorbike. By the time the owner's teenage daughter got back from the airport with the handwritten plane tickets, I was ready to leave on whatever vessel would take me. (Lenny didn't have $200 and was forced to take the train back to Mandalay and then bus from there to meet me in Yangon. Poor thing!)
Information for other travelers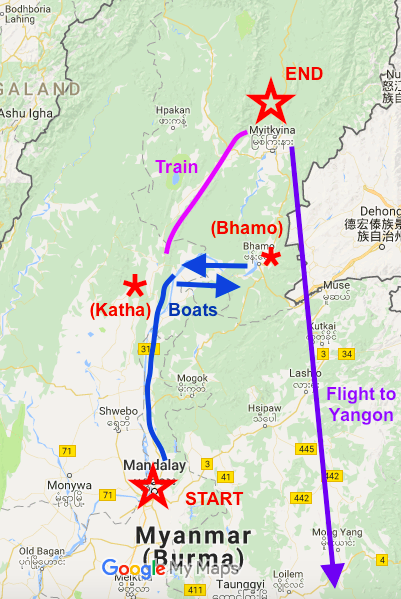 The exact route we took was Mandalay to Katha, Katha to Bhamo, then we backtracked from Bhamo back to Katha because there was no way to reach Myitkyina from Bhamo by boat as a foreigner at the time, and then we took the train from somewhere near Katha up to Myitkyina.
It was a constant guessing game about where we could and couldn't travel, but luckily the boat drivers (some of whom knew a bit of English, others only spoke Burmese but we got the idea) would tell us where we could or couldn't disembark and even helped us find guesthouses when we arrived in villages in the middle of the night.
Although these areas are not frequently visited, there's still basic infrastructure for travelers, both local Burmese making these multi-day trips and adventuresome foreigners who find their way up the river. Tickets for the boat can be purchased with some difficulty the day before your journey and locals (but not their livestock) actually respect the assigned seating system onboard. Not all guesthouses have government permission to host foreigners, so expect to be turned down occasionally and do be respectful of the owner's position. We were turned down a few times, but always found at least one place that would take foreigners.
Good things to bring for the journey: Plenty of snacks! They certainly sell a lot of things, but it's mostly stinky fish curry and we grew tired of it after a couple days. We had a few blankets, including one to put on the bench underneath us as a cushion, making the ride much more comfortable. And we had a lock to keep our backpacks secured to a pole on the boat so we could wander around freely without worrying about our things, although I think they would have been perfectly fine unsecured given the easy-going nature of rural Burmese. Books and things to entertain yourself for a few days are very handy, too. The views are spectacular but you will tire of looking at the water!
All in all, it's one of my favorite journeys I did in Asia, so if you have the time, patience, and knowledge about how to do this trip, I'm confident you'll absolutely love being this far off the beaten path in one of the most spectacular countries in the world.